Touch VPN -Free Unlimited VPN Proxy & WiFi Privacy
1.7.3
Make Sure You Only Use Safe Public Wi-Fi
When you are out and about it can be important that you are able to use some websites and apps. It is also important that you can do this safely. If you are worried that you may be connecting to some unsafe hotspots, then Touch VPN is just what you need. VPN stands for Virtual Private Network.
When logging in through public Wi-Fi others can intercept your details. If they can access your passwords, then they can do untold damage. When using Touch VPN, public Wi-Fi becomes safe to use. Hackers will not be able to penetrate it and get your details. Powered by Hotspot Shield, you can safely use it to keep your online details secure.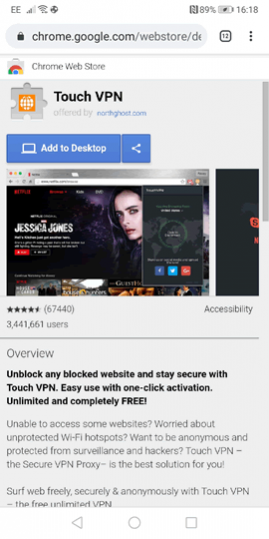 When you first install the app, you will be told all about the safety aspects. It is easy to use as there is one touch activation and you don't have to worry about the bills because it is absolutely free. You don't have to pass on your card details or go through a trial. You might be concerned that this will limit your use but that is not the case. There is no limit on the amount of time you can use it, the speed that the app will run or that there will be a limit put on the bandwidth.
Easy does not begin to describe it. All you have to do it press the "Connect" button and you can safely do what you have to do online. You are kept safe thanks to the SSL encryption that is incredibly strong and you can also stop your service provider knowing where you are. You can use sites that would normally be blocked for your country. A proxy server can do the same as a VPN Proxy server but is not as secure or fast.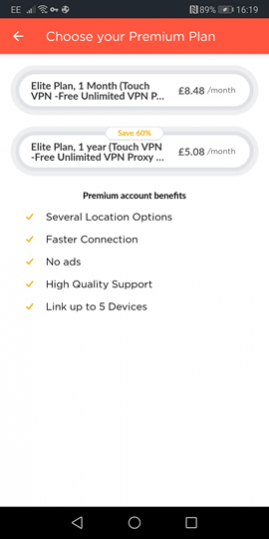 Touch VPN can be used in the UK, the USA, Denmark, Sweden, Canada, France and the Netherlands. Geo-restrictions can be overcome and firewalls can be evaded. You will even be able to bypass VOIP limits. Touch VPN is faster than a web proxy and can also help to reduce battery use when not being used. Your IP address will be changed and this is going to be helpful as you will not be targeted by ad trackers. No one will know what you have been doing online.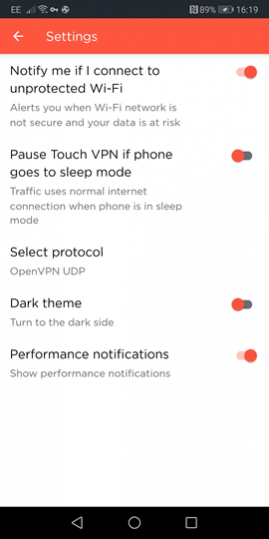 Although it is true that you can use Touch VPN for free, there are plans that you can pay for. These will give you access to facilities that the free one does not. It also means that you will not have any ads appearing while you are online. The paid for plans are classed as Premium Plans and it is clear what you will receive for each one. If you just sign up month by month, it will be more expensive than if you sign up for a year.
Features
Can be used for free
Allows you to access public Wi-Fi safely
Allows access to country limited sites
Offers higher quality paid for service
Easy to use thanks to one button connection
Totally anonymous browsing
Faster than a proxy server
Conclusion
There is no safer way to go online when you are out and about and need to rely on public Wi-Fi. Even if you decide that you want to pay for the additional service, the cost is not high. Having the ability to appear to be in another country can be priceless when you want to visit certain sites. It is also helpful that your new-found anonymity will prevent you from being hounded with adverts and offers connected to sites you have visited. If you do need help you can be sure that you will receive it swiftly
---
Add a review
Tell us your experience with
Touch VPN -Free Unlimited VPN Proxy & WiFi Privacy
1.7.3
RELATED PROGRAMS
Our Recommendations
---
---
---
---